The Five Best Healthcare Articles of 2018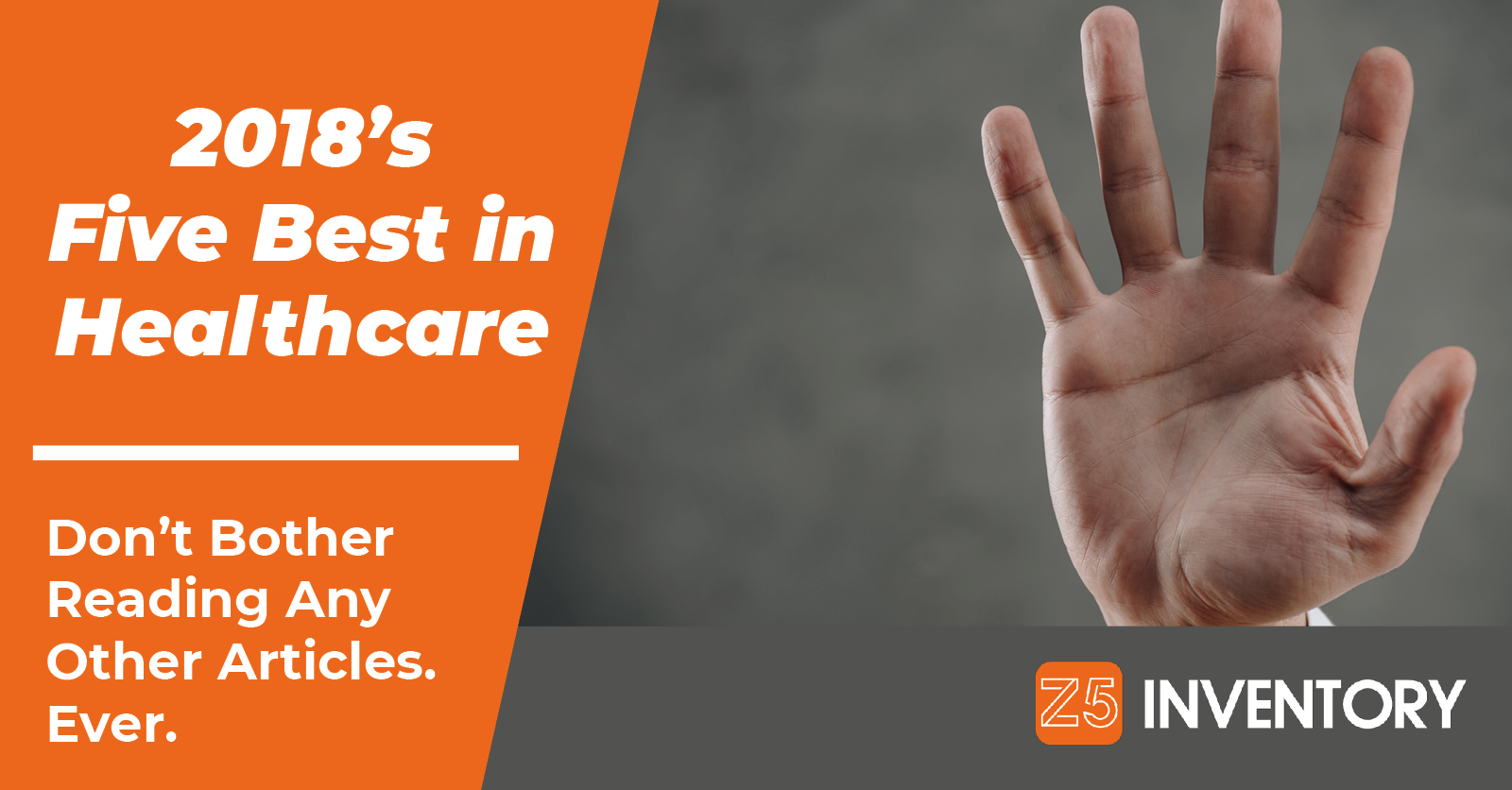 The year isn't done yet, but as we've already explained, we're over it. More and more of the workday is dominated by discussions of the office party and debates of "how ugly does a sweater have to be to qualify as an ugly sweater?"
So let these - our favorite articles on healthcare, its supply chain, and the best possible version of each - wrap up 2018 better than the presents under the tree. (Unless they were wrapped like this. Because this is amazing.)
(Originally featured in What Disruptors Like Amazon Can Disrupt... And What They Can't.)
If we measured the most interesting articles by the ones that you viewed the most, Forbes' list of reasons against Amazon single-handedly revolutionizing healthcare in America would probably take the gold medal. Maybe because the article raises some really intriguing and lesser-discussed aspects of the industry, and maybe because you just need something to reassure yourself that Jeff Bezos won't be your boss in five years.
Either way, there's plenty here to remind us of the complexities of our shared business.
2. The Amazon Approach VS The Whole Foods Approach
(Originally featured in You Have The Power! Redefine Your Bottom Line.)
While we're on the subject of the 800-pound gorilla, this article has really stuck with us. Not because of the specifics of Amazon and its dealings with subsidiary Whole Foods. More for the mindsets that the two companies brought to the table. Amazon believes in finding one hyper-efficient solution that will improve every customer's experience, but Whole Foods believes in working with customers directly to find out their needs to tailor the experience to those who use it.
Neither of these approaches is necessarily more right or wrong. They're both worth considering, especially as you ask yourself: "What will work best for this specific hospital? Is there a way to design care to be efficient and individualized?"
(Originally featured in You're Gonna Need A Bigger Antidote.)
Engagement within any organization can be a struggle. So can communication. So a solution like this homebrewed Shark Tank-style competition for innovation at Northwell Health is especially inspiring. They encourage process-improvement at every level and reward that creativity. Guess who wants to be more innovative after that? Everybody.
Maybe this isn't exactly the solution your organization needs. But it could be the shout you need to start that brain avalanche so desperately needed where you work.
4. Patients Don't Act Like Customers
(Originally featured in Why Does Healthcare Cost So Much?.)
This was part of our larger discussion of why healthcare comes with such sticker shock. Part of the answer is that the provider doesn't treat the patient like a business treats a customer. And vice versa. Sometimes that's to everyone's benefit. But sometimes it leads to people paying significantly more than they should.
The lesson here is: don't take your patients for granted. Because if you start treating them the way you'd like to be treated, they'll come back. They'll trust you. And you'll have earned it.
(Originally featured in Does The Data Have To Agree With You?.)
The words were whispered all over our office this last spring. "Have you seen the numbers from Cardinal?" This survey, perhaps more than any other this year, defined our purpose at Z5 Inventory. It was simultaneously encouraging that healthcare workers were ready for supply chain improvements and disappointing that the industry is still so far behind where it should be.
If you don't want to scroll through all the graphs yourself, feel free to rely on our nice write-up of the results. And if you think the results don't apply to you, you might want to ask around. Talk to the people actually dealing with your supplies every day. They'll beg you for a better way.
HONORABLE MENTIONS:
Building A Value-Based Supply Chain
(Originally featured in Shifting The Human Focus.)
This article was shared around the office so much that we actually shared it with you in two separate Five To Saves. Whoops. But that must mean it's pretty comprehensive.
How ASCs Can Punch Above Their Weight
(Originally featured in What Do You Know About The ASC Supply Chain?)
Our own CEO, Carl Natenstedt, was featured in three separate Becker's discussions about the future of ASCs, how they can adapt to alternative models out there, and what they'll need to do to survive in the era of megamergers.
The Onion Crunched The Numbers:
(Originally featured in The Future of Pharma Is Female.)
Some sobering statistics to take with you into the new year.
Headline photo via Depositphotos / Z5.