5 Questions That Will Show You A Tech Vendor's Quality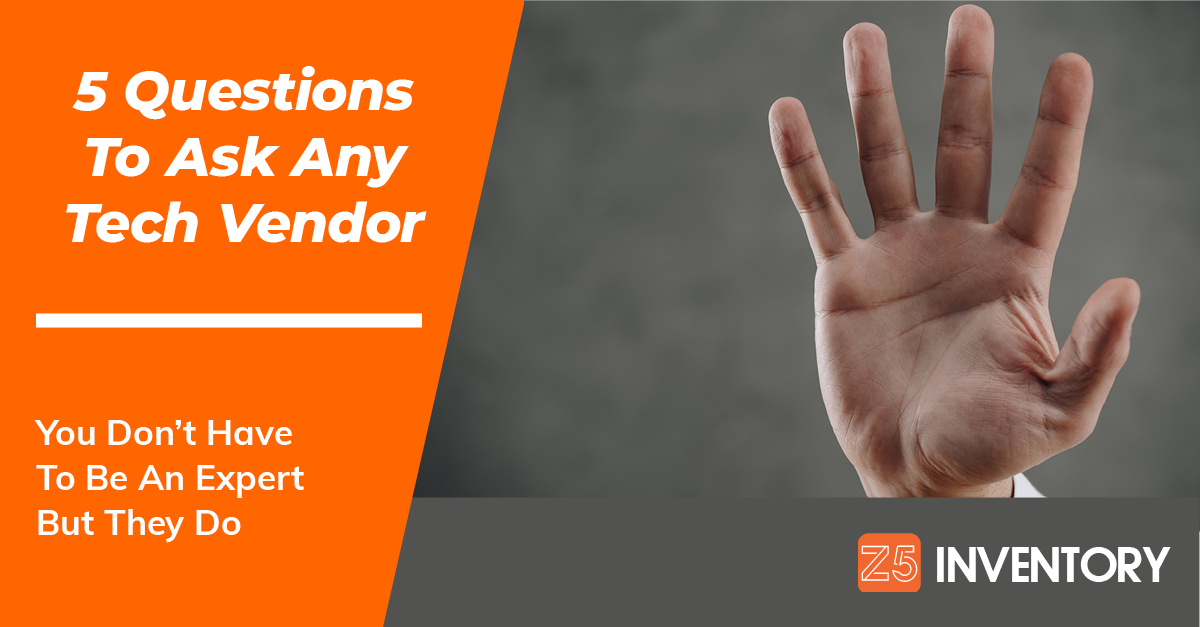 You can't know everything about every emerging technology. But you can know how to evaluate a new tech vendor.
Because the problem with emerging tech is that it's always emerging. There's always something new coming out, and no matter how up-to-date you think you are, sooner rather than later, what you're using is going to be so two-thousand-and-late.
(Just like that Black Eyed Peas shout out. Anybody know how they're doing during all this? Who's checking on Fergie? Is she okay? What will we do without her??)
Rather than try to keep up with the newest trends in healthcare tech, you can arm yourself with a couple of things. First: the right list of questions to ask anyone who's making big promises.
Questions To Ask Any Tech Vendor
We had our CTO, Brandon Burris, list some questions that you should put to any vendor who's approaching you with a tech solution (particularly if it's an AI/ML solution like the ones that Z5 Reallocate uses to identify inventory that's likely to expire).
You can listen to Brandon's advice on the recent episodes of Take 5: An Inventory Series - and we really recommend that you do - but we've also conveniently written them out for you to reference below.
The better the vendor's answers are, the more likely they are to be able to do what they claim they can do. So start with each of these, which will protect you from getting burned by a company that's too inexperienced or too misrepresentative of what they can do.
1. Are you building this solution yourself?
Too often companies are bundling artificial intelligence and machine learning into larger offerings, and they're either contracting out the work or just reproducing solutions developed by a more specialized company. The more they understand their solution, however, the better they'll be able to understand how to use it to help you.
So if they can't explain the specifics of how it works and why it was built the way it was, best to pass.

2. What's your password policy?
You probably don't want your password to be some unmemorable jumble of capital letters and punctuation you've never heard of, and you definitely don't enjoy changing it every six weeks, but your vendors ought to.
Knowing a vendor's exact password strength conditions and how often they change passwords is huge in how much trust you give them.
3. How is your data encrypted?
You need to know how protected your data will be in their hands. Is it encrypted both in rest (stored on a server) and in transit (sent between your computers and theirs)?
There are aspects of security that go far beyond the password question listed above, so ask the vendor how secure their networks are. Ask them how redundant their data is and how they'll protect your data when they have it.

4. What are your communication protocols?
When the bathroom is flooding at Starbucks, you probably know what the next steps are: you run away. Or, if you're a decent person, you alert the staff. Things aren't always so clear-cut when you're having trouble with a piece of technology.
Ask the vendor about their policies around reporting and escalation. If the customer notices a problem, what are the next steps? How do you decide when to take it beyond looking up an answer in a wiki and actually report the problem to a developer?
Ask the vendor about their policies around reporting their problems to you. If they have a service outage, when will they let you know, and what are your options while they're down? Ask them specifically about their "mean time between failure" (how often they have issues), "mean time to recovery" (how long it typically takes to fix those issues), and "mean time to acknowledge" (how long it takes them to report their issues), and feel very knowledgeable yourself while you do so.
5. What are your audit practices?
The people you work with probably insist that you prove that you're doing your job. They don't just let you say, "All good over here!" and go along your merry way.
Just like you need someone impartial checking your work, so does each and every vendor who's going to be working with you. So ask them how often they perform audits, if the audits are performed by a third party, and what they do with the results.
We'll have more on the subject of working with new technology - specifically what steps you should take to prepare yourself as the evaluator of potential tech solutions - in our next blog. But you can get a jumpstart in the meantime by listening to our latest episode of Take 5: An Inventory Series, where we get that exact advice from frequent tech vendor (and our own CEO) Carl Natenstedt.
Until then, stay safe and stay educated.